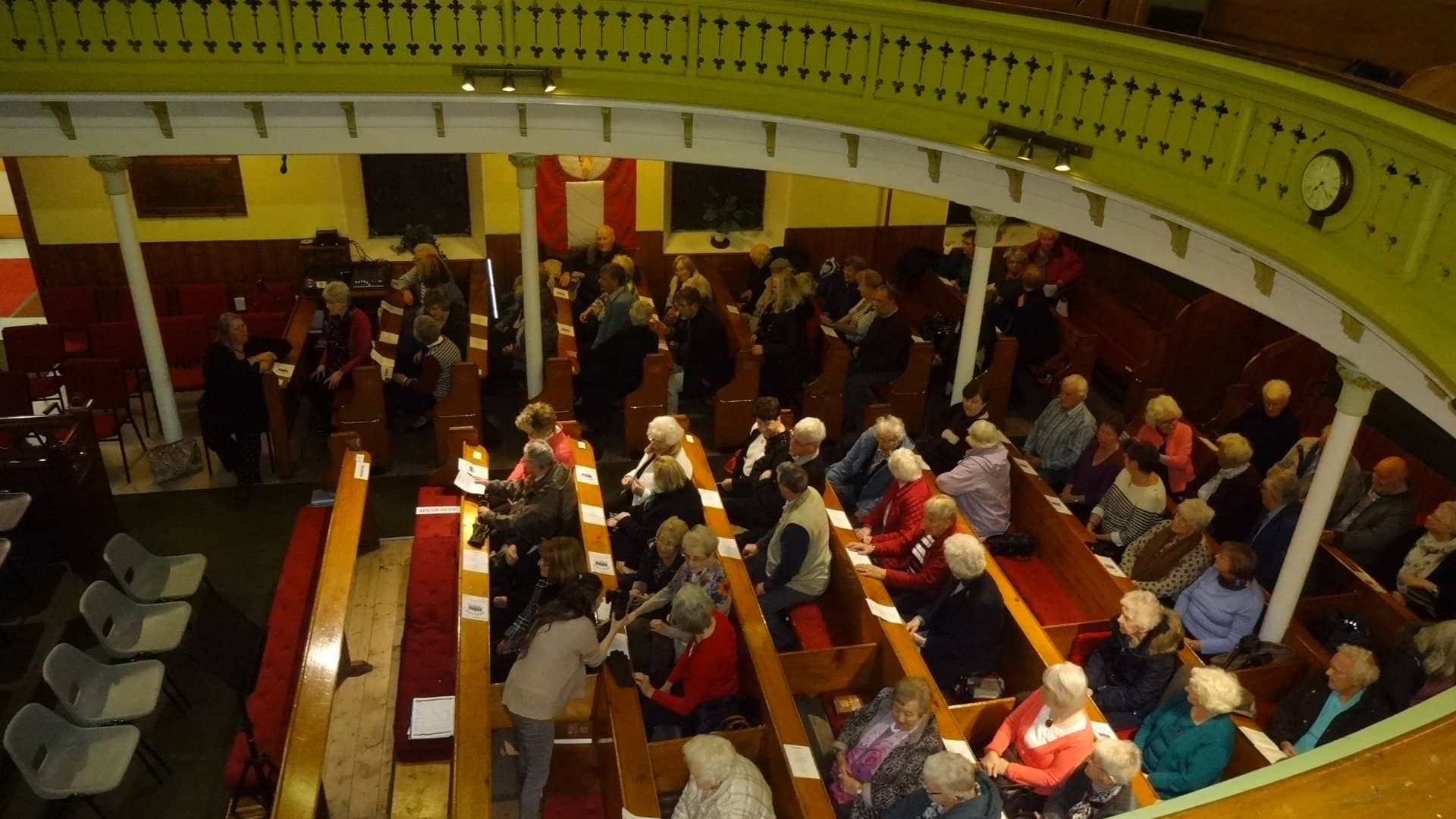 in General November 27, 2016
The Rev. Dorothy Granger welcomed the choir to Kirkgate Parish Church Saltcoats on what was a cold November Evening. Having introduced us to a large audience she handed over to our compere Mr John Goodwin.
From here on in it's easy, we sing! - But what goes on to get us to this point – a lot of hard work by some very dedicated individuals.
Our Secretary organises buses to get us here, sends out various E Mails with programs & gentle reminders to be on time!
Our Musical Directors put together a program which will not only entertain but reflects where the choir is musically at this point of the season.
Our Librarians ensure that everyone has the required music for the evening
Then there is the thorny task of seating arrangements. Is there enough room within the hall for the four choir sections? Will the conductor be seen by the entire choir? And so it goes on from concert to concert –always different, always demanding of people's time and effort.
The payback is having an audience such as Kirkgate Parish Church who appreciates the Choir's efforts & respond with warmth & humour.
In John Goodwin we have a compere who can get the hardest audience on his side. At Kirkgate he didn't need to try too hard!
The program was a mixture of tried & trusted items along with new pieces that Mr Alex Ferguson, our Musical Director, has been patiently teaching since early September. The audience at Kirkgate responded warmly to his choices as many of the pieces were "weel kent"
Our first soloist of the evening, Mr Neil Sommerville, performed two pieces from "The Shows" which were well received by this enthusiastic audience. Neil is a young & very popular member of the choir. As with all Male Voice Choirs we need more of his ilk.
Ayrshire is proud of its association with Robert Burns. Our reader, Bill Caldwell, evoked our pride in the Bard with his recital of "A Soldiers Return"
David Walker is our accompanist & assistant Musical Director. He treated the Kirkgate audience to a beautiful clarinet solo of
"Stranger on the Shore"
accompanied on piano by Alex Ferguson. Members of the audience of a certain age were time travelled back to 1960 to a time of sunny days spent on the beach.
Our soloists this evening have all been young men full of vigour –our next soloist, John Goodwin, does have an excellent memory! John performed his solos in his usual flawless fashion.
Our final soloist this evening is Hugh Fraser. Hugh plays cornet solos in two pieces tonight –
"She" & "American Trilogy"
. Hugh can transfer seamlessly from his cornet solo back to his 2nd Bass part –amazing!
And what of the Aeolian Male Voice Choir? –At our Annual Concert last March, 39 choristers took to the stage of the Grand Hall in Kilmarnock. 42 members were proud to perform at Kirkgate this evening. More new members would always be welcome & our two professional musicians make Tuesday evening practices a joy to be part of –hard work but so enjoyable.
The Rev. Dorothy Granger thanked the choir sincerely for their performance & invited each & every member to supper in the adjacent hall. The Aeolian love to sing but they also love to eat! Some members are able to perform several eating encores if required!
Social Media is not everyone's cup of tea but it does get the message out there. It is gratifying to see Facebook messages which say:
"Thank You for a heart warming evening"
"The wonderful Aeolian Male Voice Choir"
Wonderful is an overused word. Please watch the video below & enjoy our efforts.