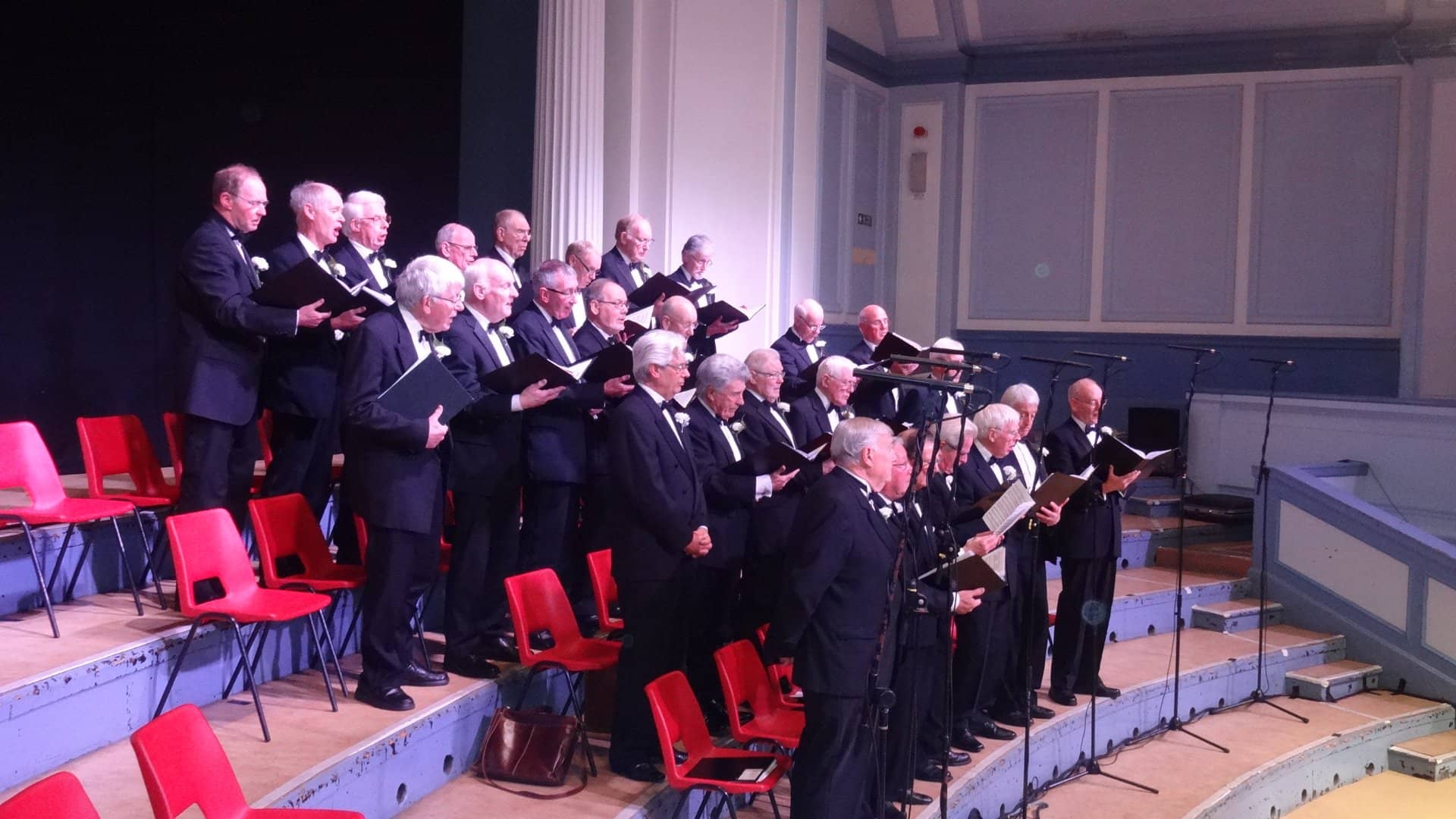 in General March 26, 2015
Reflections
Wherever emptiness is found,
Let there be joy, and glorious sound

We hope you enjoyed the 2015 Annual Concert. We would particularly draw
your attention to three pieces that are each very different, but equally evocative.
They are tremendous examples of how music can embolden, sooth, and celebrate.

The tender "Seal Lullaby" is a beautiful composition written by Eric Whitacre in
2004. The lyrics are the opening poem from Rudyard Kipling's "The White Seal",
which begins with a mother singing to her young pup.

Oh! hush thee, my baby, the night is behind us,
And black are the waters that sparkled so green.
The moon, o'er the combers, looks downward to find us
At rest in the hollows that rustle between.

Where billow meets billow, then soft be thy pillow;
Ah, weary wee flipperling, curl at thy ease!
The storm shall not wake thee, nor shark overtake thee,
Asleep in the arms of the slow-swinging seas
This contrasts with the powerful, stirring Anthem from the musical "Chess" as
Sergievsky reflects on his political defection:

No man, no madness,
Though their sad power may prevail,
Can possess, conquer my country's heart,
They rise to fail.
She is eternal
Long before nations' lines were drawn.
When no flags flew,and no armies stood
My land was born


And finally, "The Awakening", written in 1995, is a celebration of the wonder of
music, and the joy it brings:


Let music never die in me!
Forever let my spirit sing!
Let all our voices join as one
To praise the Giver of the song!
Awake! Awake!
Let music live!


Some Reviews from Members of the Audience

There was an air of expectation among fellow concert
goers as I entered the Grand Hall to attend the 82nd
annual concert of the Kilmarnock Aeolian Male Voice Choir
In my opinion these hopes were fulfilled by a well
balanced, professional programme presented by
enthusiastic people doing what they love best.!
Making wonderful music.!
The choir under the expert direction of Alex
Ferguson, gave each genre very commendable treatment
ranging from the Classics through to easy listening. Of
particular note were 'Bring him home' from Les
Miserables, the sea shanties and 'Smoke gets in your
eyes'!
Let's not forget the polished accompaniment from David
Walker, the cornet solo by H. Fraser the witty repartee
by compere John Goodwin and the contribution from
individual members of this long established ensemble who
entertained us royally. !
The beautiful items by soloists Hazel McBain and Euros
Campbell from the Royal Conservatoire of Scotland
impressed as did their excellent accompanist Livi Arder
who coaxed such velvet tones from the piano. !
All this in the Grand Hall whose decor is a credit to
East Ayrshire Council and their Staff. ! - Mr Gibby Porter - Kilwinning


"Another terrific night with a great blend of popular,
classical and Scottish music. The audiences' applause
and the smile on everyone's face says it all. The Annual concert and the Christmas
concert are now fixed dates in my diary!". Mr Ronnie Gibb - Kilmarnock


Another excellent performance but noticeable that there
were only 33 choir members which had a slight impact on
overall sound as you would expect but more noticeable
because of the physical look of the total choir.
As I am a harmony man I particularly like to look out for
and listen to the way the song or tune is structured harmonically
and as such the first song from "Chess" was
really good with some excellent harmonies. I particularly
liked the (first time?) use of the high harmony very
effective and lifted the song to another level. Anytime the
harmonies were introduced to some of the other
songs it noticeably lifted those songs. Mr Henry McDermott - Prestwick

The Aeolian Male Voice Choir….Saturday 21st. March 2015
Yet another fine concert by the choir, with a few members
unable to attend there was no obvious loss of
quality .As usual very ably conducted by Mr. Alex Ferguson
and well supported by Mr David Walker. Choir member Mr
John Goodwin was excellent in his introduction of guest
singers and songs adding his own warm sense of humour.
The guest singers from the Royal Conservatoire were very
professional without losing any intimacy with the audience
and very ably assisted by the young accompanist.The new
lighting in the Grand hall complimented the choir although
sometimes I could not make out Mr Goodwin`s intros clearly.
( Lady wife suggested hearing at fault ! ) All round excellent
performance by the choir again . One small point,unlike his
footballing namesake who says plenty it would be nice to hear
Mr Ferguson introducing a song or two. Mr Robert Mclauchlan - Ayr


A very big thank you to the Aeolian for a splendid concert on
Saturday. My friends and I thoroughly enjoyed the programme
- the old and the new - and were very impressed by the stunning
talent emanating from the Scottish Conservatoire. We were sorry
to see the choir somewhat diminished and hope you'll be successful
in attracting new members.
When considering the choir's development, may I request you
consider the conductor's podium? Certainly, its large enough for
Alex and his music stand,but there's no room for exuberance.
An excited step back could prove fatal!" Mrs Mhairi MacNamee - Kilmarnock
We thoroughly enjoyed the concert last Saturday evening.
It was just wonderful to hear all those beautiful songs
performed in such a professional way.I can see why the
members get so much reward and fun from being involved
in the Aeolian Choir And it is great to see the choir
supported by such a large and enthusiastic audience.
The presence of Hazel McBain,Euros Campbel and Livi
Arder added a delightful touch to the evening.
Of Course everybody will have their own favourites
but I must confess that I thought the Choirs renditions
of "Anthem" and "The Awakening" were superb.
Well Done! Douglas McCreath - Troon